How to find us
While the Faculty's building is being refurbished, we moved to Tyniecka 15/17, 2nd floor, rooms 219-220.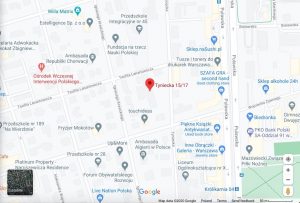 History of Egyptology at the University of Warsaw
1934
Antoni Śmieszek receives the chair of the Egyptological Seminar founded at the Oriental Institute of the University of Warsaw. 1937 – 1939 Antoni Śmieszek is the head of the Oriental Institute.
1945
Prof. Ananiasz Zajączkowski becomes curator of the Egyptological Seminar. Egyptian is taught by prof. Kazimierz Michałowski
1950
Department of Ancient Near Eastern Philology is established; the Egyptological Seminar becomes a part thereof. 1951-1961 – Tadeusz Andrzejewski lectures at the Seminar
1955
The Egyptological Seminar becomes the Department of Egyptology (its succeeding curators are: K. Michałowski, R. Ranoszek, S. Strelcyn, J. Chmielewski and J. Bielawski). Prof. Albertyna Szczudłowska-Dembska, dr Elżbieta Dąbrowska-Smektała and dr Irena Himner (Pomorska) belong to the staff of the Department.
1968
Due to a restructuring that took place at the University, the Department of Egyptology loses its independent status.
1990
A new Department of Egyptology is established; among its members are prof. Krzysztof Winnicki (head of the Department in years 1996-2000), dr Katarzyna Urbaniak-Walczak, Ph.D. student Dariusz Niedziółka, librarian Iwona Bebrysz.
2003
Department of Egyptology becomes part of the Department of Assyriology and Hittitology.
2008
The Oriental Institute becomes the Faculty of Oriental Studies.
2009
Department of Assyriology and Hittitology becomes the Department of Ancient Near East.
2009
The Section of Egyptology becomes again Department of Egyptology